Pedestrian safety is a top priority for cities, communities, and towns all across the country. According to the Centers for Disease Control and Prevention, pedestrian accidents caused 7,000 deaths in 2020. In order to uphold pedestrian safety, both drivers and pedestrians need to be aware of the risks. A recent report published by Stone Rose Law analyzes the multiple facets of pedestrian crashes, their frequency, causes, and offers ways to stay safe as a pedestrian. In this article, we will go over some of the most notable findings/statistics within the report, and further explain how you can minimize the risk of pedestrian crashes within your community. 
Context and Causes of Pedestrian Crashes in Arizona
According to the report, the context for pedestrian crashes were as follows: Crossing Road, Walking with Traffic, Walking Against Traffic, Standing, Lying, Getting on/off Vehicle, Other, and Unknown. Crossing the road had the highest percentage of pedestrian accidents, accounting for 63.8% of all pedestrian crashes in Arizona in 2022. Although crossing the road is the highest contextual situation in which pedestrian accidents took place, the number one cause of Arizona pedestrian crashes is driver error. 
Driver error encapsulates a multitude of inappropriate driver behaviors. Some of the most common forms of driver error include: 
Driving while intoxicated

Distracted driving

Speeding 

Ignoring traffic laws and signals 

Reckless driving 

Passing a school bus 
Due to the report's findings regarding driver error, it is safe to say that careless drivers pose a great risk to pedestrians in the state of Arizona. 
Where Did Most Pedestrian Accidents Happen?
The report also goes into some detail about the location of pedestrian crashes in Arizona. As stated above, the majority of pedestrian accidents occur when a pedestrian is crossing the road, which means that intersections and busy roadways are where a majority of these accidents happen. The graphic below, pulled directly from the report, outlines urban versus rural types of pedestrian accidents. In urban areas, there were 219 fatal crashes, as compared to the 39 fatal crashes in rural areas. There were 1376 injury inducing crashes in urban areas, whereas in rural areas there were only 80 injury crashes.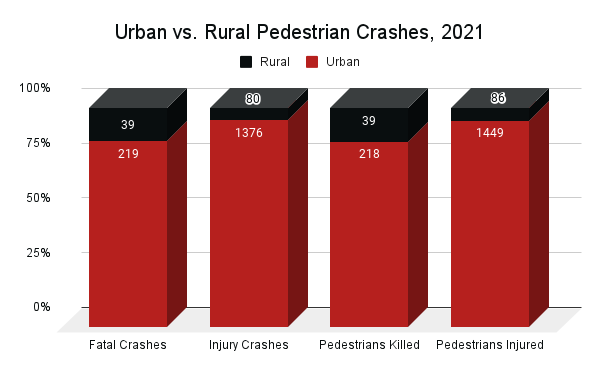 Fast Facts About Arizona Pedestrian Accidents
The report put together some interesting fast facts pertaining to pedestrian crashes in Arizona. Below are some of these: 
The majority of pedestrians killed in Arizona in 2021 were male. 

980 pedestrians were injured while crossing the street, whereas 143 pedestrians were killed. 

During 1,506 pedestrian accidents, the weather was clear. 

The two age groups most affected by pedestrian accident deaths were ages 25-34 and 35-44.

Pima County and Maricopa County accounted for 81.32% of Arizona pedestrian fatalities. 
Minimizing the Risks of Pedestrian Accidents
So, how can you do your part to minimize the risks of pedestrian accidents in your community? Firstly, if you are a driver, make sure to obey the rules of the road, drive with your full attention, avoiding texting, driving under the influence, and speeding. Always be on the lookout for pedestrians, and drive with extra care when you are around a pedestrian(s). 
As a pedestrian, being aware of your surroundings is of the utmost importance when it comes to minimizing the risks of pedestrian accidents. Wear bright colors, double-check before crossing the road, and try to use sidewalks and bridges whenever they are available. Educating others on pedestrian safety is one of the first steps we should take to improve pedestrian safety for everyone.