Over the years, the state of Texas has become known for its considerable size, historic attractions such as the Alamo, and the resilient nature of its residents. With an estimated population of 29,945,493 in 2022, Texas is the second-most populous state in the country. Given the considerable size of the state's population, it is inevitable that Texas roadways see a substantial amount of traffic, particularly in and around major cities.
Recent reports indicate that 2021 was the second-deadliest year in terms of Texas traffic accidents since 1940. The only year in which there were more traffic-related fatalities from 1940-2021 was 1981. Given this alarming rise in lethal collisions in the state, we wanted to take a closer look at what factors potentially influenced this trend. Since DUI crashes tend to be particularly devastating, we decided to focus on DUI-related collision statistics in 2021 for this article.
How Many Fatal Car Crashes Occurred in Texas in 2021?
Throughout 2021, Texas experienced a total of 4,060 fatal car crashes that resulted in 4,489 casualties. The state's traffic-related death toll increased by a shocking margin of 15.22% from the previous year. The chart below details the breakdown of deadly crashes by the type of roads they occurred on. U.S. and state highways saw nearly 2x as many fatal collisions as the next-most-deadly road type, city streets.
In addition to fatal accidents, a further 15,764 serious injury crashes occurred in Texas during 2021, resulting in severe harm to 19,448 people. According to The Doan Law Firm, serious car accidents can cause life-changing injuries such as:
Broken bones
Head, neck, and spinal injuries
Back injuries
Disfiguring scars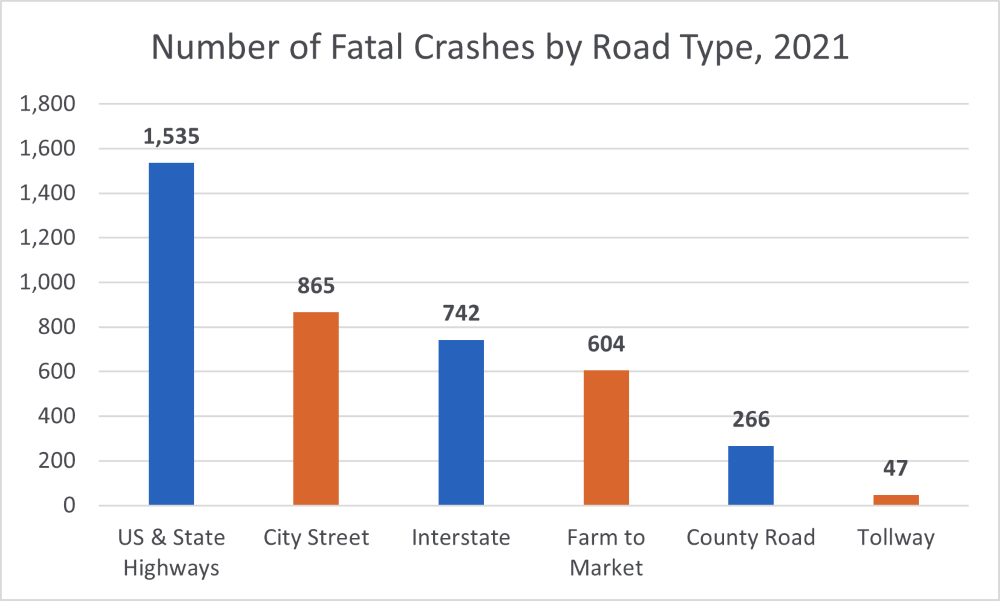 What Impact did Alcohol Have on Fatal Texas Collisions?
Driving under the influence can substantially increase a motorist's risk of getting into a serious crash. In 2021, a total of 1,257 fatally injured drivers in Texas had their blood alcohol content (BAC) checked following their collision. 44.79% of the drivers tested were intoxicated to some degree, with a BAC of at least 0.001. Only 36.20% of the drivers tested did not have any amount of alcohol in their system at the time of the deadly crash, while 19.01% of motorists had an unknown BAC. The high number of intoxicated drivers may have played a role in the sharp increase in crash fatalities statewide throughout 2021.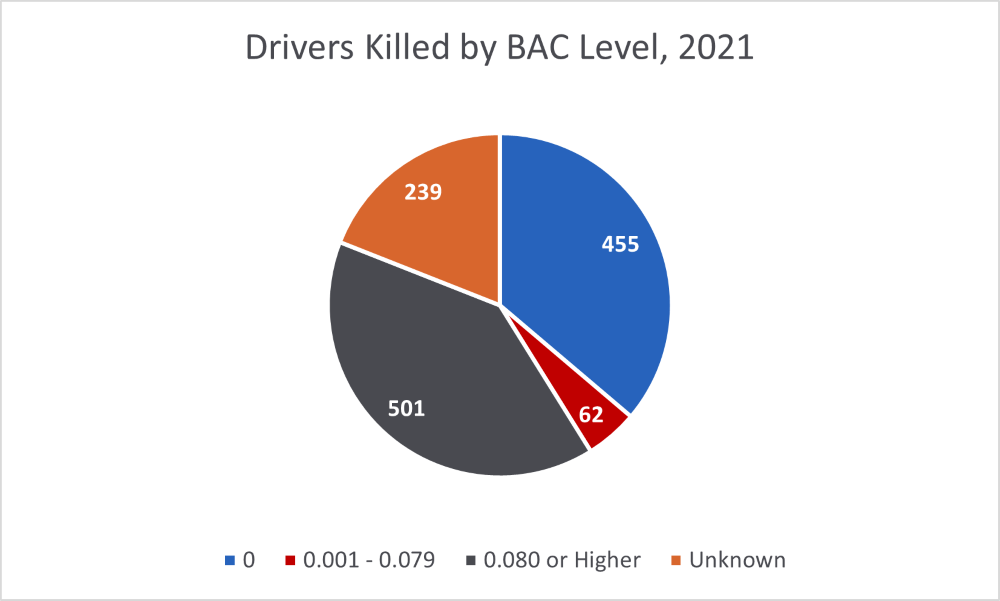 What Role Did Impaired Driving Play in Rural Texas Crashes?
Accounting for all levels of severity, there were 40,839 recorded crashes on rural roads in Texas during 2021. We broke down this total number of collisions by DUI crash factors, focusing on how many DUI-related crashes occurred at each level of severity and how many victims were injured or killed. Of note:
8.44% of all reported rural crashes were DUI-related.
Crashes where at least one driver was legally intoxicated resulted in more serious harm. 37.06% of DUI-related rural crashes resulted in severe or fatal injuries to at least one person, compared to 20.75% of all rural collisions.
Almost all rural DUI crash victims were injured to some degree (3,558 people).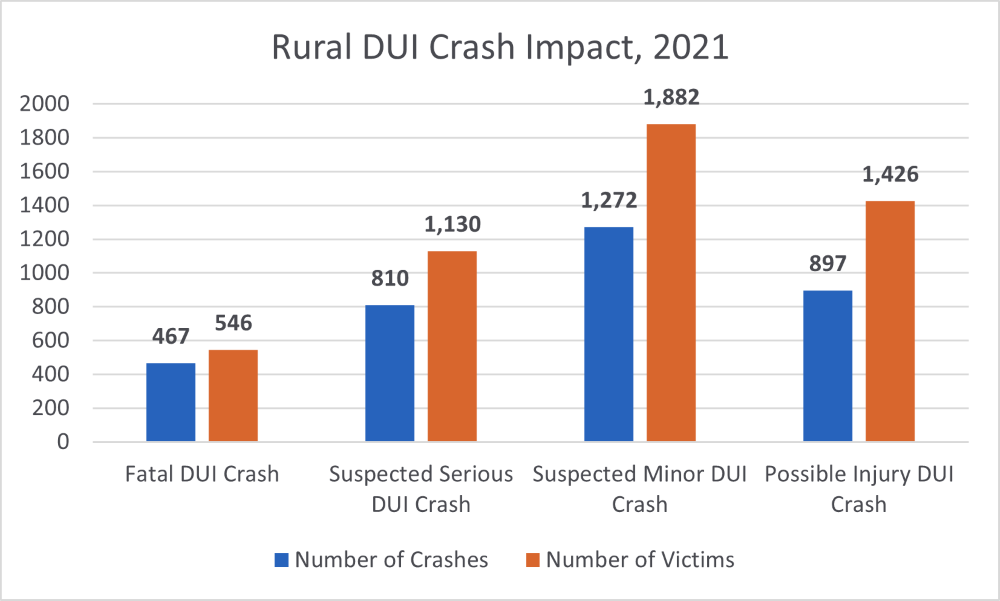 What Role Did Impaired Driving Play in Urban Texas Crashes?
There were substantially more crashes on urban streets than on rural roads in Texas during 2021. Overall, the state saw 126,538 urban collisions. 2,198 victims lost their lives and 11,102 people suffered serious injuries. We broke down the impact of intoxicated drivers on urban crashes by charting both the number of victims impacted and crash frequency by severity.
We discovered that:
5.38% (6,811) of urban Texas crashes in 2021 were DUI-related.
Similarly to rural crashes, DUI crashes tended to cause more substantial harm to those involved. 21.83% of DUI urban crashes resulted in one or more serious or fatal injuries, compared to 9.03% of all Texas urban collisions.
78.17% of DUI crashes on urban roads resulted in either minor or possible injuries. In 2021, DUI crashes on rural roads had a 62.94% rate of minor or possible injuries, indicating that rural wrecks were more likely to result in life-threatening or lethal harm.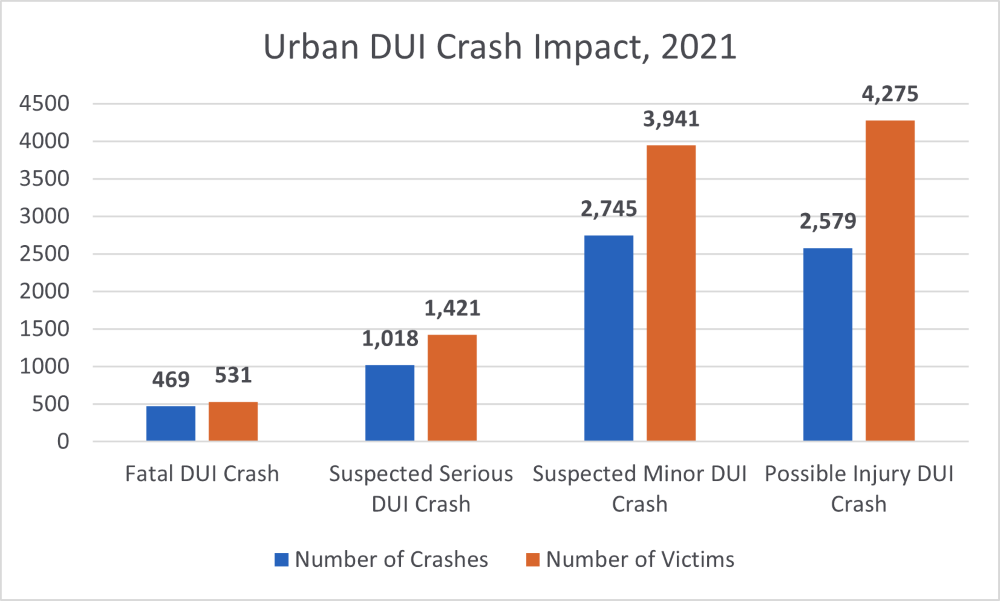 What to Do if You Are Hit by an Impaired Driver
Any car accident can be a traumatizing experience, but a collision with a suspected impaired driver can be particularly terrifying. We've put together a list of steps you can follow in such an event to help keep you safe and get justice for any damages you incurred.
Get to safety. If your car is still drivable, get to the side of the road, a parking lot, or another safe location where you are out of traffic. Get yourself and any passengers to a safe spot away from traffic and any environmental hazards (fallen wires, burning or smoking motor vehicles, etc.).
Call 911. If you believe that you have been hit by an impaired driver, it's vital to report the incident to the authorities as soon as you can. The responding officers will create an incident report and, if the driver that hit you is still on the scene, may be able to investigate into whether they are intoxicated.
Seek medical assistance. Even if you do not believe you have suffered serious harms, see a doctor as soon as you can. Some injuries sustained in a car accident may take days or weeks to become noticeable, and they can have major consequences for your health. Seeing a doctor will help rule out any serious wounds after your crash or help you make a legal case for compensation if you are more hurt than you expected.
Speak to a car accident attorney. Reach out to a local car accident attorney that is familiar with Texas car accident and DUI laws and regulations. They will help you build a strong legal case to recover compensation for your injuries, medical bills, and property damage.