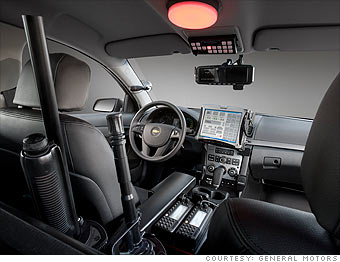 The ones responding to distracted driving accidents might in fact be the ones causing them these days.
According to reports and statistics, on average, a crash occurs about every other day as a result of an emergency vehicle operators driving distracted. In 2010, an officer rammed into the back of a taxi at speeds excessive of 60 mph, and when asked how the accident occurred, the officer responded saying that he took his eyes of the road for just a minute to enter information into his in car laptop.
Now distracted driving is far from being a problem only emergency vehicles are guilty of. In fact, they only account for a relatively small proportion of such accidents, but they are the only ones free from any sort of law prohibiting such use, and this is where the problem lies. In 2008, California passed the distracted driving law that prohibited people from using their cell phones while driving unless it was through Bluetooth. State Senator Joe Simitian reports that in "The first year the handsfree law was in effect, we had 20 percent decrease in fatalities which is 700 fewer fatalities every year. We had a 20 percent decrease in crashes which is 75,000 to 100,000 fewer crashes."
During the process of getting this law passed, police officers and various other emergency vehicle operators lobbied successfully to keep the law limited to regular civilians, but maybe this was the wrong decision. While we trust police officers and others to make the right decision while driving, sometimes the in car devices we provide them are too hard to ignore. Dr. Bryan Vila, who is leading the first study attempting to quantify the effects of distracted driving on officers, says that they are caught in a sort of catch-22. We expect them to drive safely, but then we provide them with radios, cell phones, GPS devices, radar and laptops. Even with the intense training they receive to be able to multi-task while driving, Simitian says that "No matter how good you are, distracted driving is a killer."
As of now, accidents due to distracted driving by officers are not being counted, which is why Dr. Vila hopes that his groundbreaking study will bring light to the obvious situation and lead to actions limiting such use. Dr. Vila's study will also show the public just how dangerous distracted driving is. If the people we trust to keep us safe and who are trained to be able to multi-task while driving are struggling with the act of doing so, then absolutely no one is immune to the sometimes fatal repercussions of distracted driving.
As for your own actions, there are two things you can do in response to the world of distracted driving. First, you can put your phone in a spot that does not tempt you into using it while driving. You never know when an obstacle is going to suddenly present itself, and all it takes is a quick look down to your phone to not be able to avoid it. Second, you can retain an experienced accident attorney who can be by your side during these tough times. Some accidents you just can't avoid, no matter how attentive you are being, and if you are the victim of such an act, then the right attorney can make sure that your future is not financially burdened because of someone else's negligence.
Get in touch with a distracted driving lawyer now and make sure than in the event you do fall victim to such misfortunes, you have someone on hand ready and willing to fight to assert your rights and make sure you are taken care of.