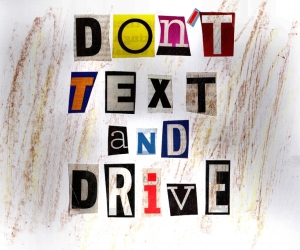 Seven California students learned first-hand the dangers of distracted driving.
In the first time event put together by St. Joseph Health of Sonoma County and other sponsors, students from all around Sonoma were invited to participate in distracted driving experiements.  The tests were simple time trail courses and basic lane changing maneuvers, the catch however was to perform them while distracted.  The students were asked to perform regular in car distractions like sending a text message, changing radio stations, and opening the vehicles sunroof. The results were shocking to everyone.
Jared Thompson, an instructor at the Simraceway Performance Driving Center where the study was conducted, stated, "We certainly saw a huge difference between the lap times and number of errors committed when drivers were distracted versus when they were focused on driving."
CJ Lyons, a junior from Marin Catholic, said, "When you look at the statistics and the amount of kids who get injured from texting and driving it really makes you realize how dangerous it is."
In the big picture of things, all other reports are reflecting the similar findings. The National Highway Traffic Safety Administration reported that nearly half a million people are injured and 4,000 killed by distracted drivers every year.
It is also more alarmingly estimated that nearly 11% of those killed in accidents involving distracted drivers were under the age of 20.
Ultimately we all hold responsibility for the safety of ourselves and our families. While you may be taking the necessary safety precautions, others most likely will not.