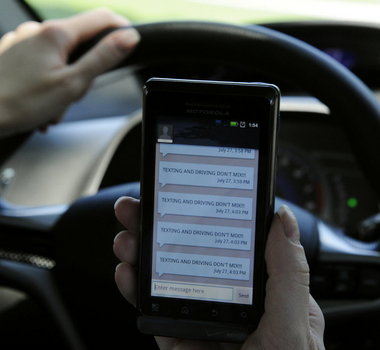 The National Safety Council estimates there were more than 1 million crashes in the United States this year caused by drivers distracted by their cellphones. The Hoover, AL community and officials are rallying this week to bring to light the dangers of distracted driving. Although texting itself is a huge factor, the campaign hopes to shed light on all types of distracted driving, whether it be eating, applying makeup or talking on a cell phone.
Hoover has teamed with the National Association of School Resource Officers (NASRO) and Wisconsin company Innocorp which designs products and programs to improve wellness, save lives and prevent injuries. Innocorp's partners includes groups such as Mothers Against Drunk Driving (MADD).
With a big focus on fun the school has found innovative ways to bring the student body together while highlighting this somber topic. Students at both Hoover and Spain Park will participate in a variety of contests, such as decorating their teacher's doors in theme with the campaign. The winners will receive a lunch of Chick-fil-A. A distracted driving themed tailgate party is also being planed with music, food and refreshments provided before the school's football game.
Motivational speakers will also be in attendance, such as Bobby Petrocelli a national motivational speaker who lost his wife when a drunk driver came crashing through his bedroom wall at 70 MPH. If the program proves to be successful NASRO plans to expand the awareness week to schools throughout the country.
As far as how its effectiveness will be measured, Julia Minopli, a seventeen year old senior at Hoover says, "If we can just just prevent one accident caused by distracted driving…it will be a successful campaign".